---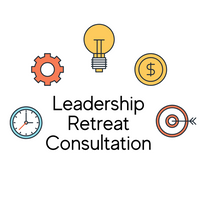 Many churches schedule times for leadership boards to meet and plan beyond the typical meeting times.  But what are these extended retreat times for?  How can they be the most faithful and effective?
This coaching and resource package is meant to help you plan a retreat time and provide the materials needed for your success.  There are three main categories of support that are offered and customized for your setting.
How can our leadership team understand and move forward more aligned with our mission and vision?
How can we adapt our structure to better respond to our particular ministry?
How can we strengthen our relationships with one another?
Sample resources included with this package include bible studies, team building materials, discernment tools, and more.  
This purchase offers 3 hours of consulting time with Ray Schulte as well as the customized resources.  The goal is to help provide the support you need.
After checkout, you will be contacted by Ray within 3 days to schedule the consultation time.  Not sure if this is the right fit or are interested in a more intensive process?  Email Ray at ray@missionalchurch.org for more information.